---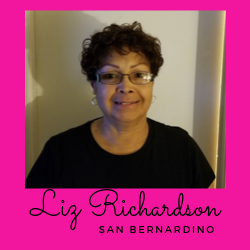 A Laundry Ladies Licensee Since: 2015
Liz was raised in Pomona, California and after graduating from high school went on to become a Certified CNA. She also worked at Security Pacific Bank and Bank of America as a Senior Clerical Specialist. Currently working part time as a caregiver, and at times works a lot of hours, and some very long days Liz was looking for something that would still help others but not be as time consuming. Liz has always enjoyed being able to help others so becoming a Laundry Lady was a natural fit! At an early age she was taught by her mom how to do laundry, and being from a large family there was always "loads" of it, so she has had a lot of practice!
Liz has raised three wonderful children, and about to become a grandma! Being a Laundry Lady will allow Liz that free time to be a Grandma while still helping those in need of laundry assistance!
---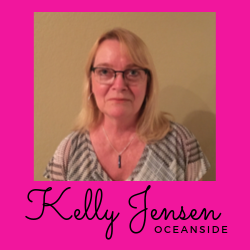 A Laundry Ladies Licensee Since: 2018
Thank you for your interest in having me service your Laundry needs. At this time, I am temporarily not taking any new laundry requests. I apologize for the inconvenience and hope to open up laundry service again soon. Until then, please take care!
Bio: Kelly is from Canada. She and her husband moved to San Diego in 1998. She has worked in Administrative positions throughout most of her career. She has two grown children and two grown step-children. She has been creating glass art for the past seven years, which she loves. She is very happy to create glass and have a laundry business from home, which is perfect. She looks forward to helping families and businesses with their laundry needs in north county.
CLICK HERE TO BE DIRECTED TO: Kelly's Laundry Lady Profile Page
---
A Laundry Ladies Licensee Since: 2019
Jody's Laundry Lady Profile Page